Toilet Slut Poop And Smear - FullHD 1920x1080 - With Actress: xxecstacy [9.45 GB] (2019)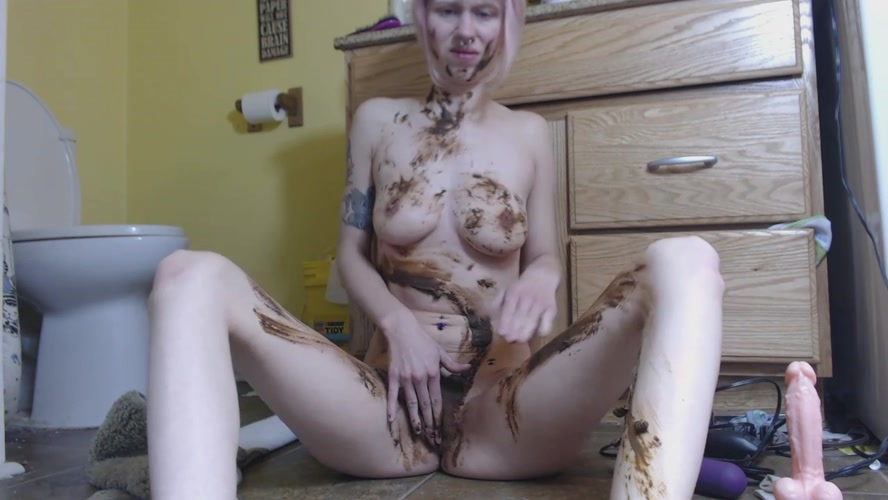 Toilet Slut Poop And Smear
Watch as I poop in the toilet for you, finger my asshole until I can spell "slut" on my chest, then dip my hand into the toilet water and play around with the poop, smearing it all over my tits and talking dirty to you, including describing how strong it smells, and how it feels on my hands.
Soak And Play In And Out Of Panties
Watch me piss all over the floor with my panties on and play with my piss, masturbate, and lick the panties. Let's enjoy the taste of my piss together and get off. I'll get my white t-shirt soaked in piss, take it off for you, take the panties off for you, play with both between licking and sucking and stuffing them, getting more and more soaked with piss as I play for you.
Making You A Poop Patty
Let me poop for you in my bathroom sink, and continue by crafting you a delicious poop patty. It's so sticky and slimy, but I bet you would love the texture and the feeling of it sliding down your throat. Lot of dirty talk and talk of consumption.
JOI and Anal With Toy Scat Smear
Watch as I tell you how I'd love to help you jerk off, and use the toy as an example of your shit covered dick. Pumping it up and down, taking it in my ass, smearing my ass with poop, and even sticking the toy in my mouth. Hope you enjoy watching it as much as I enjoyed making it for you!
Upside Down Pee Clip
Watch me try my hardest to get myself upside down to pee on myself and play around a little bit. It's not incredibly long, but you get to enjoy watching the pee traveling up my stomach and getting all over myself, especially when I lower myself down and get soaked.
Both Holes Scat Smear
Watch me start off by pooping for you, and starting to smear it all over my ass. Then, lets flip over, tease you, and smear on my tits and vagina. Both anal fingering and vaginal fingering is involved in this video. Give me 10 minutes of your time to drive you wild, talk dirty to you, and get off covered in poo.
Enormous Poo and Buttplug
I am absolutely desperate to poo. It's been a full day, and it's practically coming out of my ass as I'm setting up the camera. It just keeps coming, and coming, and coming. What a huge load! I wish I could have played around more with it, but I screw my shitty ass with my buttplug for you, over top of this large pile of shit.
Scat Smear Masturbation
Watch me smear poo all over my body, talk dirty to you, and get off with the poo covering my vagina. No toys, just fingers and poo. Let's have some fun together!
Standing Smear and Anal Play
Watch me get in position, open my cheeks up, and poo for you. Continuing by picking up my poo for you, I smear it all over my tits for you, while fingering myself anally.
Smear Anal Play
Watch me poo for you, then take my poo and smear it all over my ass. Combined with dirty talk, I also go and start fingering my ass for you with my absolutely filthy fingers.
Shark Week
Watch me masturbate and smear my blood all over. This is my first shark week video, and I did manage to get myself nice and bloody.
Smear Tit Play
Watch me poop out something special for you, and smear it all over my tits for your enjoyment. I absolutely love dirty talk, and that is definitely included in this video.
First Poo Smear and Masturbation
Watch me get my absolute first poo experience, where I start by pooing for you, and continue by smearing it all over and masturbating for you. This is the first video that I did, and you get to enjoy my reaction for the very first time.
Genres:
xxecstacy, scat solo, scat, defecation, scatology, poop, shit, kaviar scat, pooping girls, shitting girls, shitting ass, scat girls, poop videos, amateurs scat, dirty anal, scat porn
Duration:
01:07:36
Quality:
FullHD
Format:
MPEG-4
Size:
9.45 GB
Download Video Fast - Toilet Slut Poop And Smear - FullHD 1920x1080 - With Actress: xxecstacy [9.45 GB] (2019)